ALV for Arc GIS
Plug-in for ArcGIS / ArcView
ALV for ArcGIS is a sophisticated MMS software application designed for management and analysis of the spatial data acquired by the Mobile Mapping System (MMS). ALV for ArcGIS is an extension/plug in to ArcGIS/ESRI's platform, which works as a complimentary technology and enables access to ESRI's ArcGIS Desktop & ArcGIS Server.
​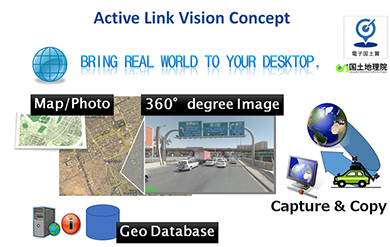 Flexible – browse geo spatial video's only and ready to use.
Top-down views – 3D geo spatial video's from Iwane MMS system and high-resolution satellite imagery and road map views from ESRI Maps.
Ready to go out of the box – ALV for ArcGIS requires no development expertise and is simple to use.
Comprehensive and customizable - An extensive set of measurement and mapping tools to leverage your geo spatial Video's.
Advanced Usage - User can use for advanced GIS and mapping usage based on geo terrestrial imagery.
Using ALV for ArcGIS, one can capture the real world to its desktop and analyse the 3D space. ALV for ArcGIS provides powerful extensions for ArcGIS Desktop, connecting directly with your geo database allowing you to visualize abstract geospatial data in context as well as populate new data sets.
​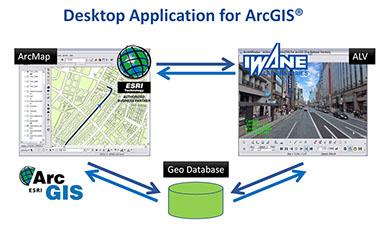 All set of video controls are provided in ALV for ArcGIS so as to perform the video playback and forward. Skip by frame or jump to particular frame is also provided in the interface. Easy registration of geo referenced videos, data management of video's and navigation are the key elements in ALV for ArcGIS.
In ALV for ArcGIS, ALV is a 3D docking window in which 3D geo spatial video can be imported with respect to location on map & FOV of the footage and perform functionalities like browsing & navigation of complete 360 degree image, population of GIS database, geo-tagging, measurement (within & across the frame), import computer graphics and can simulate the road view environment, etc.
​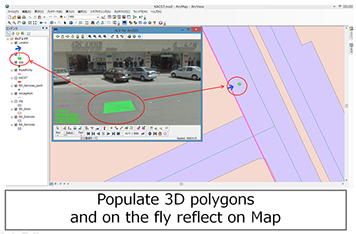 It can actively link 3D Image data with base map, populate the features with attributes, store in geo-database and share. ALV for ArcGIS provides ability to measure and record asset conditions along city streets, Inspect vegetation, pole conditions, and wire locations.
​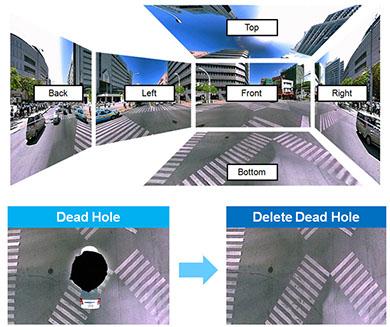 Using the CV technology, we can complement dead hole ( remove the car and sensors from image ). This can be done by using forward or backward frames and output complete spherical image. This gives a clean image of of pavement and other inventories like manhole on the road surface.
SITUATION AWARENESS
Complete surrounding image can be visualized without any dead hole. Image is all geo referenced and can be seen as the frame with respect to location on the map.
The image can be zoom in/ out by click of a button and later can be back to normal by default button. The Image is stabilized and a smooth transition between one video to another.
3D COORDINATES
Camera position and absolute position of the coordinates can be determined by a single click inside the Image. Click any pixel inside the footage will give the geo graphical coordinates which can be stored in the geo database or values can be extracted depending upon the user's choice.
The accuracy of the coordinates depends on the distance from the center of the camera. In fact both relative and positional accuracy can be under cm level with much precision. The accuracies can be verified using the ground trucking technique and under cm level if the measurement is within 20 m from the center of the camera.
​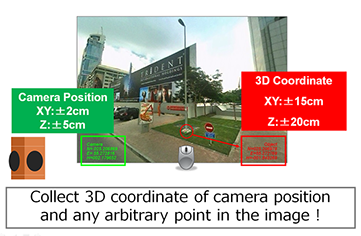 MEASUREMENT IN 3D
User can easily perform 3D measurement within and across the frames in the geo spatial video just by clicking on two points. Measure linear distance, area by just clicking multiple points inside the image. Measurement feature add intelligence to images and possible because we can know the coordinates to every pixel in geo spatial video.
​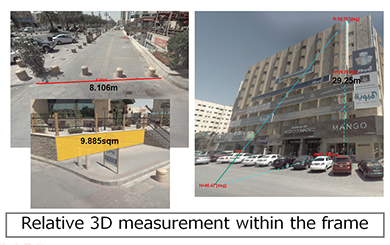 The height of the buildings can be measured by using the unique GRID features. The base point is established to build the grid, which translated panorama footage to a 2D plane. Special grid features like horizontal, vertical grid are added to translate the 3D surface to 2D surface, which helps in precise measurement. This helps users a clear understanding of the plane and ease the procedure of measurement. The Grid can also be drawn in X, Y plane and based on the two points on the slope.
​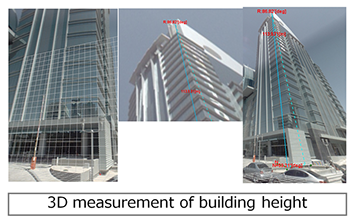 Unique measurement feature is that measurement is also possible across the frame by only clicking the two points. Mark first point and then user can jump to other frame and can mark second point for precise measurement.
​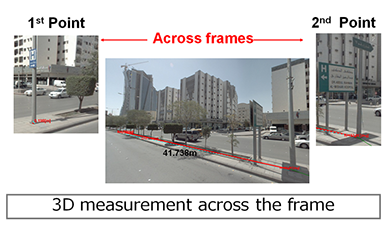 Relative accuracy is the accuracy between the point A & B inside the image. By clicking on two points, a distance between the two points can be determined. Also we calculate the distance between the two camera's in a relative scale using CV calculation.
​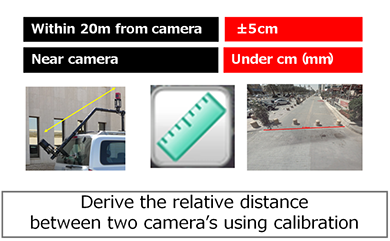 GIS DATABASE
Using geo spatial video geometry like line, polygon, point can be digitize inside the and automatically reflect on to the map. All the geometry data will be stored in a geo database. User can export the coordinates to other format and future import in GIS environment.
​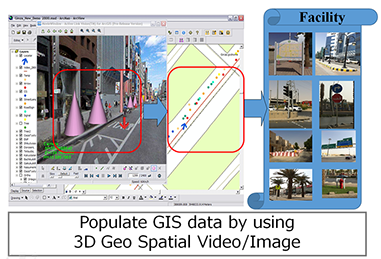 User can make point feature on horizontal grid which is equidistant in size and set by user. All the feature points populated by user will be stored in geo database . The ALV window directly communicates with the geo database and the attributes can be added based on user choice .
​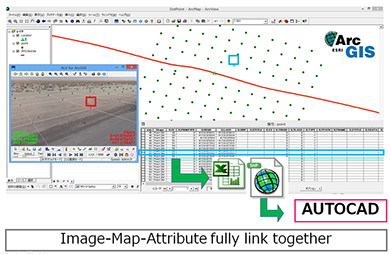 IMPORT EXTERNAL DATA
ALV for ArcGIS provides flexibility to import GIS data (external from other sources) inside the ALV. This helps to edit, verify, and populate missing data. Sometimes the positional accuracy of external data is low and therefore user can find some shift due to different sources of data with different positional accuracy.
​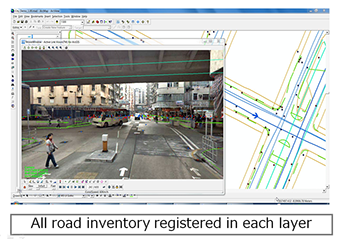 GEOTAGGING
Geo-tagging feature is provided inside the ALV for ArcGIS using which user can add any text, picture, file, etc. to specific feature/ object inside the image with location. All the contents added will be stored in the geo database and the information can be retrieved, edited on demand.
​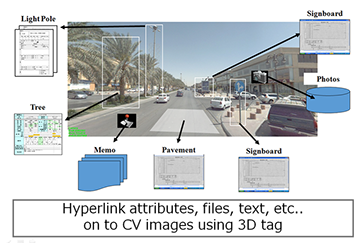 SIMULATION AND PLANNING
Import computer graphics, inside the video and simulate and plan the road view. Computer graphics, can be imported in vrml or max format and can be pan, scale, rotate. Default set of library is provided inside the ALV and user based vrml objects can be added as per user requirements.
​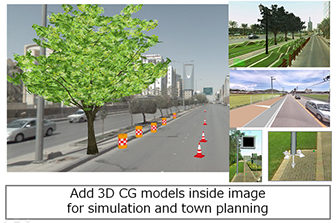 MMS Data on Web
Using the MMS software, data can be disseminated on to web linked with ArcGIS Server or other web mapping service and share within or across departments for use . We also provide a flexibility to browse data on to mobile (smart phone's) depending upon client-to-client request and project demands.
​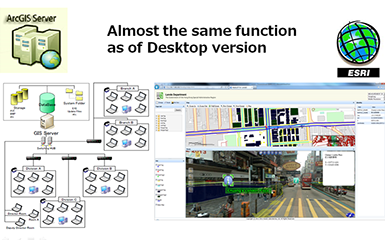 The 360 degree geo imagery can be browsed using web browser like IE7, 8 ×, Chrome, etc. It's a flash based application and web browser's need to be flash enable in order to browse 360 degree geo imagery online. One single footage/ panorama is divided into many parts (using cube format) so as to browse 360-degree geo imagery even in low bandwidth.
We are pleased to announce that last year, ALV for desktop and web software are awarded as most advanced Mobile Mapping Software by Geospatial Authority of Japan.
Key Features
■ 360 degree complete spherical image with location;
■ Image linked to Map can be raster or vector ;
■ Vibration stop / stabilize Image ;
■ Time series images can be opened simultaneously and visualize the change;
■ Top and down camera is synchronized and can be browsed by one click ;
■ GIS Database Development
 □ Population of point, line and polygon and store in GIS format / Geo database;
■ Measurement Mode : Auto and Manual
 □ Line and Area Measurement;
 □ 3D Measurement across and within frame;
 □ Unique grid interface for precise measurement;
  - Two points on slope , Horizontal Vertical GRID ;
■ Import computer Graphics;
 □ Pan , rotate and scale Computer Graphics ( CG ) to simulate road view ;
■ Geo tagging
 □ Add text , picture , file associated with any feature ;
 □ Transparent GC to define any object and add attributes;
■ Unique data Management of Video's;
 □ Handled all the data by layer's
 □ Continuous Video play ;
 □ Registration of multiple files in one Go ;
■ Vector Map Overlaid in Panoramic Images /Video
 □ Edit , Verify and populate new features ;
 □ Import existing GIS data into Video's ;