Web ALV for ArcGIS Server
disseminate data on web using ArcGIS Server
Web ALV for ArcGIS Server (MMS Server) is a web-based server using which Iwane Mobile Mapping System data – 360 degree geo referenced Images can be disseminated on to the web linked with location. In this, we are utilizing ArcGIS server web mapping capabilities related map/location.
​
The 360 degree geo imagery can be browsed using web browser like IE7, 8 ×, Chrome, etc. It's a flash based application and web browser's need to be flash enable in order to browse 360 degree geo imagery online. One single footage/ panorama is divided into many parts (using cube format) so as to browse 360 degree geo imagery even in low bandwidth. The window size of the image can be bigger or smaller depending upon the user need.
​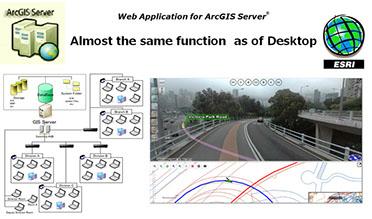 Using this different resolution of image can be disseminated and the navigation between the images is much faster. ALV for ArcGIS has a standard API's using which user can link Web ALPF with other web mapping service. Using ALV for ArcGIS, user can build its own street views and share data within or outside organizations. Users can get the attributes of the features by just clicking the feature point.
​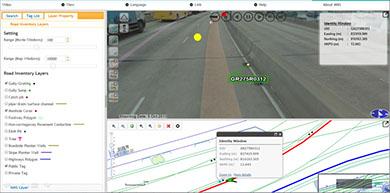 Looking at the national securities issues, data privacy, we provide end to end platform to government organization to build its own 360 degree 3D content and disseminate using their own portal. The 3D coordinates of the features inside the image is calculated on the fly and allow 3D measurement, geo tagging and population of road inventory. A grid feature is also provided for precise measurement on the web platform and tried to provide nearly all the features as similar to desktop.
​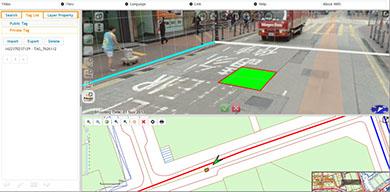 MMS Data on Web & Mobile
Using the MMS software, data can be disseminated on to web linked with ArcGIS Server or other web mapping service and share within or across departments for use . We also provide a flexibility to browse data on to mobile (smart phone's) depending upon client-to-client request and project demands.
​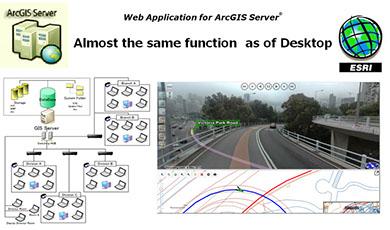 We are pleased to announce that last year, ALV for desktop and web software are awarded as most advanced Mobile Mapping Software by Geospatial Authority of Japan.
Key Features
■ Advanced API available to link with other web mapping service;
■ Flexible customization of User Interface;
■ Mash up with other web mapping service;
■ Dedicated to Government clients;
■ Most Advanced 360 (panorama ) application on the web with unique features & functions;
■ Proven technology and world wide acceptance;
■ Launch Street Views 3 years before Google launch street views;
Key functionalities
■ 360 degree Complete Spherical Video on web;
■ Support for different kind of image resolutions;
■ Click on the map and jump to Image;
■ Geo tagging;
□ Add user based information
■ 3D Measurement ( within and across the frame );
□ Measurement in 3D
□ Measurement using Cube Grid
□ Measurement using Horizontal Grid
■ Population of Geo database;
□ Point, Line and Polygon;
■ Can browse the information of any feature/object;
■ Identity & Search function;
■ Direct linkage with geo-database;
■ Can view the bird eye view (if no linkage with map);
■ Flexibility to display road name and change the color of the road;
■ Change the layout from landscape to portrait;
■ Support English, Thai and Japanese language;
Service
■ Turnkey services – Straight from Data Acquisition to Data Hoisting;
■ System Integration – Integration with local Information system ;
■ Development/customization based on clients requirement;
■ Link to other available web mapping service;
■ Integration of local GIS data with ALV server;
■ Provision for onsite training, installation, upgrade technical support and annual maintenance;