ALV Library
for development on other GIS platforms
ALV Library
Software Development Kit (SDK) of ALV with strong library lets you to build ALV application for different GIS software available in the market today. Using this one can integrate a wide range of mapping and GIS tasks online or offline, which includes measurement, geo tagging, population of database, editing of attributes, data visualization, etc.. ALV SDK provides an easier means for building and customization of ALV features.
​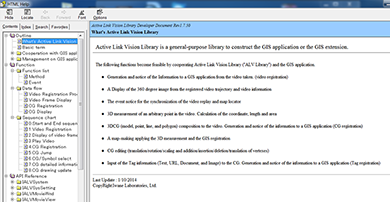 Overview
ALV Library is the set of Libraries and Runtime to develop 3DVideoGIS application on to top of GIS engines which usually run as a complimentary technology to GIS platform. Using ALV SDK, we have built ALV for ArcGIS in-house as a flagship application for MMS and also link the ALV component with Google maps. In the similar fashion, users can use ALV SDK capabilities and make a custom interface with other GIS engine depending upon user requirements.
The MMS data (CV data) can only be used with ALV SDK and the different feature of ALV can connect with the other GIS engine by the API. SDK helps to develop a close and tight integration of the MMS data (geo terrestrial image data) with 2D GIS map.
There is much functionality in ALV SDK but user has a choice of selecting specific functionality. Also user can control whether the activities performed inside the MMS data need to reflect on to the map or not.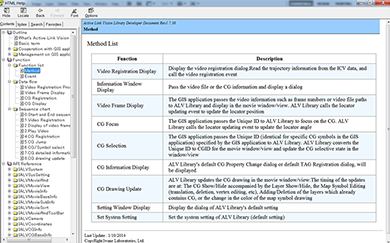 Features
■ Integration of features of ALV with Geographical information system software.
■ Registration of MMS Data to GIS by using ALV interface.
■ 3D measurement of the geo coordinates, distance and area measurement.
■ Drawing geometries like point, line and polygon inside the MMS data.
■ Addicting Computer Graphics in MMS data.
■ All the feature data populated by using MMS data can be registered and stored as a GIS data.
■ The existing GIS data can be imported and display inside MMS data.